Modern Slavery Statement
1. Introduction
This is MM Flowers (MMF) third Modern Slavery Statement and covers the financial year 2018-19. MM Flowers financial year runs from 1 September 2018 to 31st August 2019.
It details the company policies, actions taken, and controls put in place to identify, prevent and help eradicate Modern Slavery and Human Trafficking within our operations and supply chains.
2. Our business
MMF is one of the leading importers, processors, and distributors of flowers in the UK and Europe. MM Flowers is owned by three shareholder companies; AM Fresh Group, VP (East Africa) and The Elite Flower Group (South America). Our headquarters and production facility are in Alconbury Weald UK and we also have a Dutch business (MMBV). Both MMF and MMBV work with suppliers and growers from around the world.
We supply leading UK and European supermarkets with a range of cut flower products in both retail stores and online platforms. These are sourced mainly from large-scale horticultural operations in Kenya, Colombia, and the UK, along with smaller quantities from around the world.
At the Alconbury site we employ 228 people on permanent contracts during normal operational times. This increases to over 800 during peak times (e.g. Valentines, Mother's Day) and these are recruited via Staffline, the largest registered labour provider in the U.K. Our workforce consists of nationals from over 15 different countries and whilst this creates a vibrant mix of people it also presents challenges in communications.
Within our UK operations we source goods and services nationally and internationally in order to run our business. These range from contract cleaners to national labour providers We work with a core number of strategic providers many of whom we have long standing relationships with.
In August 2019 MMF and AM Fresh set up a UK inter-company Modern Slavery Steering Group to coordinate our activities across sites and companies. It is the intention of this group to agree a vision for our work on eradicating modern slavery within our own operations and supply chains, and to have clear and stretching targets to achieve our objectives with relevant performance indicators.
3. Supply Chain
Our supply chain consists of two main streams, categorised into 'Flowers, Foliage and Fillers' and 'Packaging and Sundries'.
Flowers, Foliage and Fillers: Our Flowers, Foliage and Fillers, are sourced from up to 300 individual grower sites across 15 different countries, but predominantly Africa, Europe and The Americas. Raw material sourcing strategies are based on and shaped by our supplier risk assessment matrix within which ethical and environmental standards are fundamental, along with quality, innovation, price and service. Our sources can be divided as follows:
Directly Owned: The majority (55%) of our raw material supply comes from farms which are directly owned and managed by our shareholders. We have very good working relationship with the management teams there and continue to strengthen our relationships through joint projects and support. All farms are monitored through certification and audits and due diligence procedures. These companies have a majority of their own permanent employees which minimises the risks associated with temporary or transient labour sourcing.
Known Sources: The next largest proportion of our raw materials (35%), comes from known sources and from suppliers with whom we have built up good long-term relationships. They, like our shareholder farms, are also monitored through certification, audit and due diligence.
'Unknown' Sources: The smallest percentage (10%) of our raw materials comes from 'unknown' sources as they are purchased via agents and from second tier suppliers where sometimes we do not have full transparency. This is an area we are tackling through working with multi-stakeholder forums, trade bodies and agents, in order to gain improved transparency.
We use data from various sources at a country level to measure risk, and cross reference this with certification data and grower information. Our sourcing models and close commercial relationships ensure that we maintain a good overview of how our suppliers operate their businesses. Further to this MMF staff visit growers throughout the year. When visiting our growers, we check on technical compliance and quality, and also seek to identify any labour issues.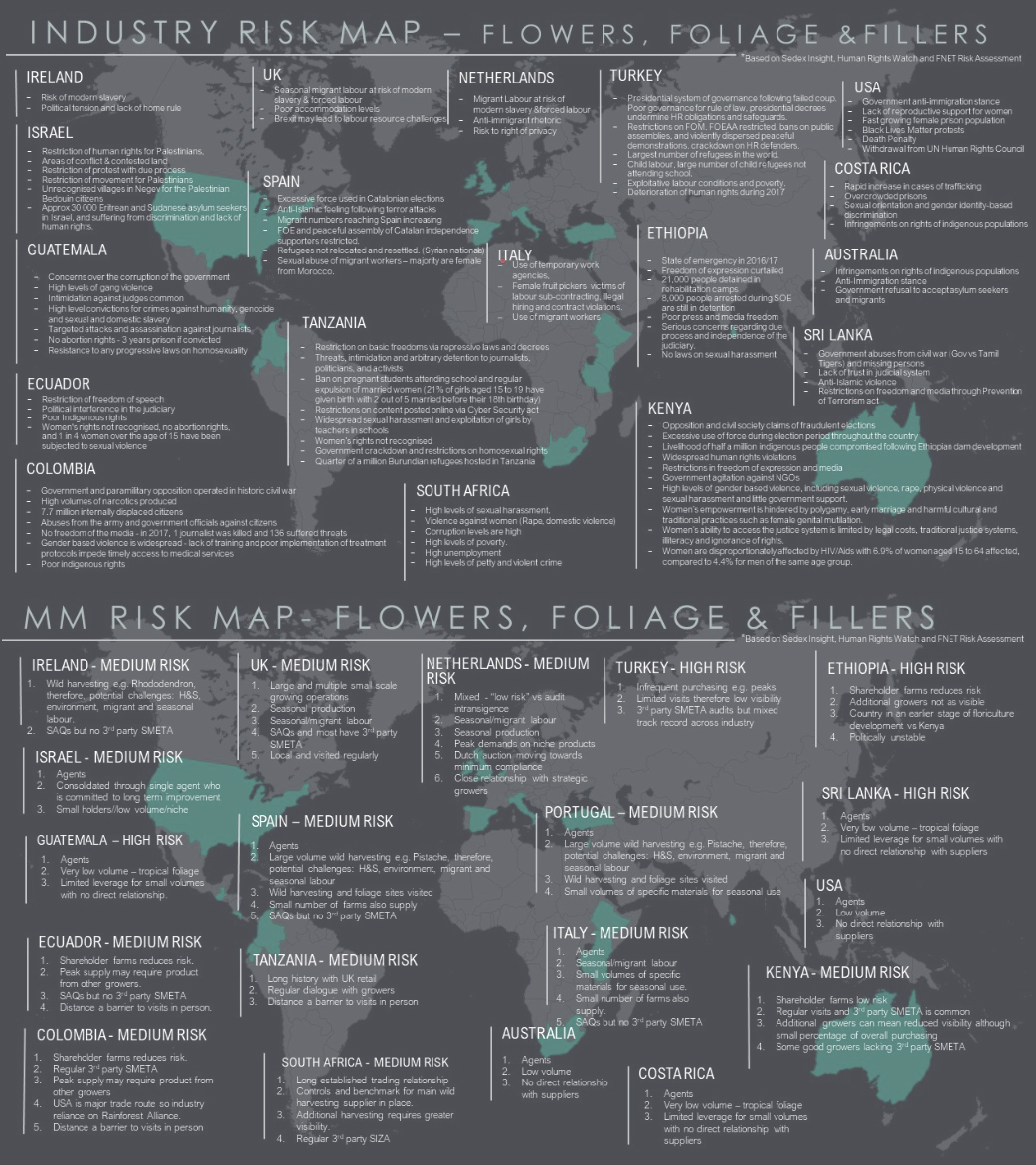 Packaging and Sundries: Packaging and sundries cover a range of different materials, from cardboard and plastics to cinnamon and pinecones; all sourced from 10 different countries. We have now mapped our supply chains to Tier 1 and will begin to focus on improved transparency to Tier 2 and to identify the risks inherent within the countries and the industries and produce Packaging and Sundries Risk Maps.
4. Due diligence & monitoring
At our production facility our agency labour provider, Staffline, is Gangmasters and Labour Abuse Authority (GLAA) licensed and audited every six months by our Human Resource Team.
All our major suppliers undergo independent third-party Supplier Ethical Data Exchange (Sedex) Sedex Members Ethical Trade Audits (SMETA) at regular intervals dependent on retailer requirements.
At all times, we remain alert to the risk of Modern Slavery within our supply chain. We encourage suppliers to identify risks within their own business. We also have the following due diligence controls in place to help prevent and identify any cases:
Sedex: we ensure that as a minimum all major supplying sites are registered on Sedex and have completed the Self-Assessment Questionnaire (SAQ). We monitor responses to key questions within this which are indicators of risk.
Supplier Sustainability Due Diligence Packs: these set out the standards that we require of our suppliers. The packs raise the issue of Modern Slavery and detail what our suppliers need to do to ensure that any cases of Modern Slavery are identified and reported to us so we are able to help them resolve the issue.
Sedex Members Ethical Trade Audits (SMETA): We carry out supplier risk assessments to identify if SMETA audits are required. This is also cross-referenced against customer requirements. Should non-compliances be raised during audits our team works closely with the supplier to take appropriate actions and remedy the situation. We share good practice to help resolve issues as quickly and effectively as possible.
These methods of highlighting and working together to resolve issues have proven to be effective and help strengthen our relationship with our supply base.
We conduct annual risk assessments for all supplying sites. This determines where SMETA audits are required and at what frequency. This risk assessment focuses on 5 key areas:
Management systems
Any accreditations & knowledge from historic audits and site visits

Length of relationship

Country
Based on independently identified high, medium and low risk countries

Labour
Provision of worker accommodation
Use of agencies/labour providers
Existence of worker committees and/or unions
Any previous issues raised related to worker welfare

Previous ethical and environmental compliance history
Audits already visible on Sedex and certification schemes such as Rainforest Alliance
This risk assessment is carried out by our Procurement team supported by our Sustainability and Technical teams. This is to ensure that there is knowledge from a sustainable/ethical perspective coupled with the knowledge of colleagues who may have visited the site and those who work closely with the management teams at the sites.
5. Policies & practices
Our approach on sustainable/ethical issues is aligned with that of our customers and their policies and codes of practice. More specifically, issues of modern slavery and trafficking are addressed through our implementation of the Ethical Trading Initiative (ETI) Base Code and requirements of Sedex or Sustainability Initiative South Africa (SIZA).
MM Flowers internal policies state that suppliers are required to comply with all applicable laws and policies as a minimum. If any suppliers do not meet these terms, and fail to instigate agreed changes, they would be delisted, and supply terminated.
Our policies and practices include:
Due Diligence pack, which states that suppliers must comply with the ETI Base Code. Suppliers are required to declare conformance and provide evidence of compliance to this requirement.
Responsible Sourcing Principles.
Whistleblowing Policy for our UK employees.
Grocery Aid, our UK employee assistance programme.
A pro-active supportive approach to audit non-conformances
Use of a single GLAA registered agency labour provider in the UK
Bi-annual audit of UK labour providers using Complyer audit tool
6. Training
Key members of MM Flowers HR and Sustainability teams have attended the Stronger Together UK Modern Slavery workshop. Board members, Directors and Senior managers, have met to further understand the issue of Modern Slavery.
Within our UK business, each employee's induction includes a section on understanding Modern Slavery and Human Trafficking issues.
We will continue to roll-out this training across our UK headquarters and then into our base in the Netherlands and eventually to share examples of good practice with our wider supply chain.
7. Assessment of modern slavery risk within our supply chain
We have worked throughout the year to identify areas of significant risk of Modern Slavery within our supply chain. We also recognise the possibility of further risks developing due to the impact of external factors such as armed conflict, migration and the climate crisis.
In 2019/20 we will map the use of labour providers throughout our supply chain.
To maintain knowledge of current and developing global issues the Sustainability Team and HR Department conduct regular horizon scanning. This includes inputs from several professional bodies, charities and NGO's. Notably, these include:
ETI (Ethical Trading Initiative)
Sedex
GLAA
FNET (Food Network for Ethical Trade)
Human Rights Watch
Stronger Together
Ethical Corp
SIZA
UN SDG News
Fairtrade
Where sourcing takes place from countries with identified risks, we have collaborated with other suppliers, customers, growers, NGO's and local government to help identify and support new ways of working.
We are founding members of The Global Cut Flowers Production Network Project which was launched by Coventry University in 2017. The Network is a multi-disciplinary collaboration to investigate how the promotion of ethical flowers can contribute to improving working conditions in supply chains.
8. Future plans
The following actions are key to our ongoing commitment to identify, prevent and help eradicate Modern Slavery from our supply chain.
Continue to improve the collection of data and use of insight channels to identify high risk areas in which to focus attention and activity to the greatest effect.
Map our packaging supply chain to full transparency and identify risks.
Identify opportunities for pre-competitive collaboration on country, regional and sector wide challenges to labour standards.
Continue to support our supplier's ability to detect and act on instances of Modern Slavery, sharing good practice and developing knowledge.
Develop training requirements for key roles within the business related to modern slavery, equalities and diversity, gender, human rights and labour standards.
Run awareness raising programmes for all staff.
Explore opportunities for collaboration with Modern Slavery Hubs such as Liverpool University and Nottingham University.
Develop MM Flowers Due Diligence pack and Responsible Sourcing Principles taking account of Modern Slavery and Human Trafficking issues.
Update our Human Rights Policy.
This statement is made pursuant to section 54(1) of the Modern Slavery Act 2015 and has been approved by Executive Committee of the Company on 22nd June 2020.


Phil Whelan
Managing Director