Modern Slavery Statement
1. INTRODUCTION
This is MM Flowers' (MMF) fifth Modern Slavery Statement and covers the financial year 2020-21 (FY21). MM Flowers financial year runs from 1 September 2020 to 31st August 2021 and our annual turnover was £186 million.
We recognise and understand our responsibility to prevent, mitigate and remediate where necessary the risks of human trafficking, forced, bonded and child labour, and to respect human rights in our operations and our supply chain. We will always treat people in our business and supply chain fairly and with respect. We continuously review and improve our practices to ensure that we have effective responses to prevent, mitigate and remediate any negative impacts on human rights.
During this year, COVID-19 continued to impact negatively across the world, affecting people, supply chains and the global economy. In some areas this created difficult conditions where human rights were compromised such as excessive working hours and cuts to wages. We are working hard to ensure that all our supply chains are fully visible and transparent, so we are better able to manage our human rights due diligence, as well as tackle COVID-19 and any other future crisis.
The Statement details the company policies, controls put in place, and actions taken, to identify, prevent and help eradicate modern slavery, child labour, human trafficking and forced labour within our operations and supply chains.
It should be noted that a new position of Group ESG Director has been agreed for next year and MM Flowers will take this opportunity to refresh its approach to human rights across the business and supply chains.
2. OUR BUSINESS
MM Flowers is one of the leading importers, processors, and distributors of flowers in the UK and Europe. MM Flowers is owned by three shareholder companies; AM Fresh Group, VP Group (East Africa) and The Elite Flower Group (South America). Our headquarters and production facility is in Alconbury Weald, UK and we also have a business and processing facility at Aalsmeer in the Netherlands (MMBV), serving both continental customers and MM Flowers in the UK. Both MMF and MMBV work with suppliers and growers from around the world.
We supply leading UK and European retailers with a range of cut flower products for both stores and online platforms. These are primarily sourced from large-scale horticultural operations in Kenya, Colombia, the Netherlands, and the UK, with the balance coming from a selection of other countries around the world.
Within our UK operations we source goods and services nationally and internationally to enable our business to function correctly. We work with a core number of strategic providers, many of whom have a long standing relationship with us, and we will continue to deepen this relationship and map these providers to give us full visibility of our supply chain and any potential human rights issues.
Governance of MMF is provided through a shareholder board with two (2) Shareholder Directors from all three (3) companies as well as the Managing Director (MD) from MMF. The Board holds the responsibility for Human Rights and Environmental Due Diligence (HREDD) and modern slavery. MMF has a Group Leadership Team (GLT) made up of the MD and 6 Directors. The HR Director and the Technical Director held responsibility for human rights and sustainability within the company during this reporting timeframe, working closely with all Group Directors and with ultimate accountability sitting with the MD. This will be reviewed next year after the appointment of a new Group ESG Director.
3 RISK ASSESSMENT
We are aware that there may be the risk of modern slavery or forced labour within our supply chains and the purpose of our risk assessment is to identify those supply chains with the greatest risks and identify what steps and actions we can take to prevent and manage any challenges.
Our supply chain consists of two main streams, categorised into 'Fresh' (or 'Perishable') materials e.g., 'Flowers, Foliage and Fillers' and 'Non-perishable' items e.g., 'Packaging and Sundries'. Each supplier undergoes a risk assessment before supply.
3.1 Supply Chain Annual Risk Assessments
We conduct regular risk assessments for all supplying sites. This, along with retailer requirements, determines where SMETA audits are required and at what frequency. This risk assessment focuses on 5 key areas:
Management systems
Any accreditations & knowledge from historic audits and site visits
Length of relationship
Country
Based on independently identified high, medium and low risk countries
Labour
Provision of worker accommodation
Use of agencies/labour providers
Existence of worker committees and/or unions
Any previous issues raised related to worker welfare
Previous ethical and environmental compliance history
Audits already visible on Sedex and certification schemes such as Rainforest Alliance
This risk assessment is carried out by our Procurement, Sustainability and Technical teams. This is to ensure that there is knowledge from a sustainable/ethical perspective coupled with the knowledge of colleagues who may have visited the sites and those who work closely with the management teams at the sites.
3.2 Fresh – Flowers, Foliage and Fillers
Our Flowers, Foliage and Fillers, are sourced from up to 400 individual grower sites from 20 different countries, predominantly across Africa, Europe and South America. Fresh raw material sourcing strategies are based on and shaped by our supplier risk assessment matrix within which ethical and environmental standards are fundamental, along with quality, innovation, price and service. Our sources can be divided as follows:
Directly Owned: The majority (60%) of our fresh material comes from farms which are directly owned and managed by our shareholders. We have very good working relationships with the management teams there and continue to strengthen our relationships through joint projects and support. All farms are monitored through certifications and audits together with in-house due diligence procedures. These companies employ most of their own permanent employees, minimising the risks associated with temporary or transient labour.
Known Sources: The next largest proportion of our fresh materials (38%), comes from known sources and from suppliers with whom we have built up good long-term relationships. They, like our shareholder farms, are also monitored through certification, audit and due diligence.
Auction/Agents: The smallest percentage (2%) of our fresh materials comes via auctions or agents from second tier suppliers and where we do not have a direct relationship with the grower, but we still ensure we have visibility. We reduce risks by limiting purchases from agents and auctions, and working with multi-stakeholder forums, trade bodies and agents themselves, to improve transparency and agree minimum certification standards.
To produce our risk maps, we use data from various sources at a country level to measure risk, such as Sedex Radar and FNET Risk Assessment, and cross reference this with information from other sources such as Human Rights Watch and NGOs, as well as certification data and grower information through Sedex analytics or field visits. Our sourcing models and close commercial relationships with growers ensures that we maintain a good overview of how our suppliers operate their businesses, the risks that they face and the actions they are taking.
The Industry Risk Map for Flowers, Foliage and Fillers, details the overall human rights risks from supplying countries. We also produce a specific MM Risk Map, which details the risk rating and brief information on how we are managing these risks. Our close relationship with specific growers, such as our shareholder farms, will influence the risk likelihood and sometimes the risk rating, as well as the way we manage the risks.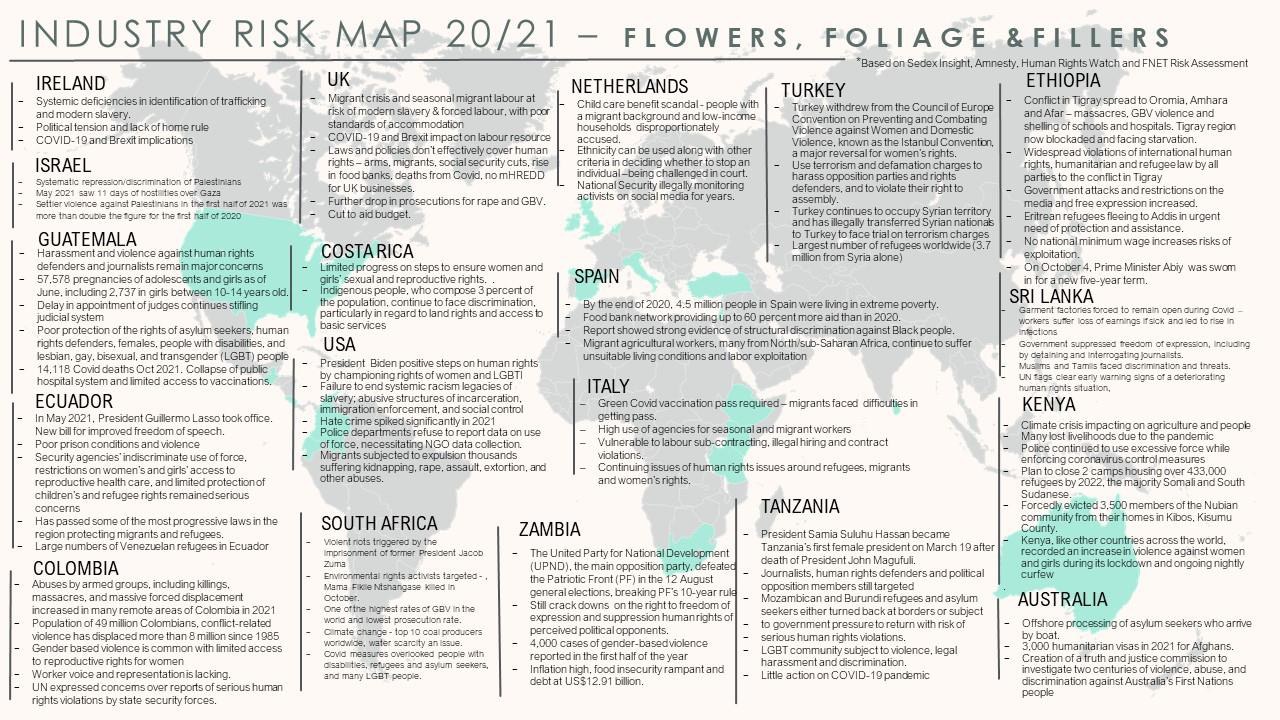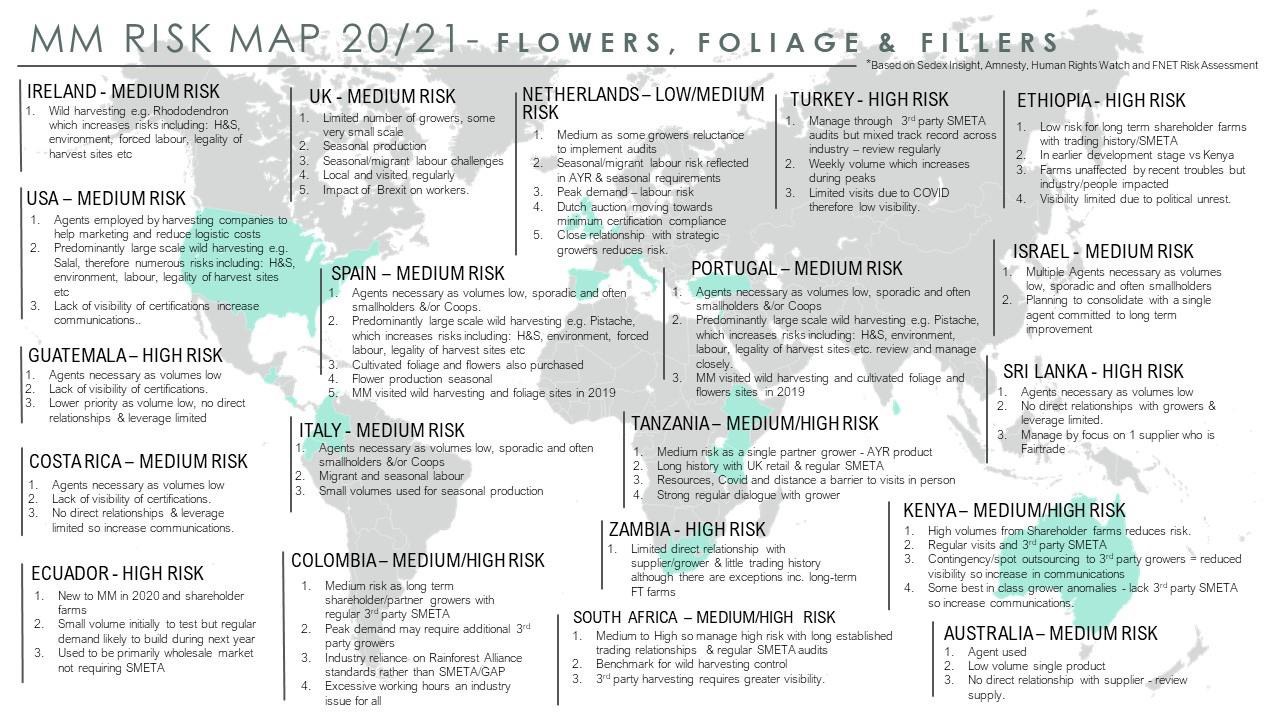 3.3 Non-perishable – Packaging and Sundries
Packaging and sundries cover a range of different materials, from cardboard and plastics to novelty items and pinecones, sourced from 17 different countries. In 2019 we mapped our supply chains to Tier 1 and in 2020 we focussed on improved transparency to Tier 2, this is ongoing. We have identified the risks inherent within supplier countries and also specifically for MM Flowers. We created the Industry and the MM Flowers Packaging and Sundries Risk Maps, see below.
The Industry Risk Map shows our sourcing relationship with each country – raw material and/or manufacture - and then details the key human rights and environmental risks. The MM Risk Map shows what risk level each country is according to Sedex/FNET rating and takes into account our trading relationship to come to an agreed risk rating. It then details what products, why this level of risk and the ways we are managing and mitigating the risks.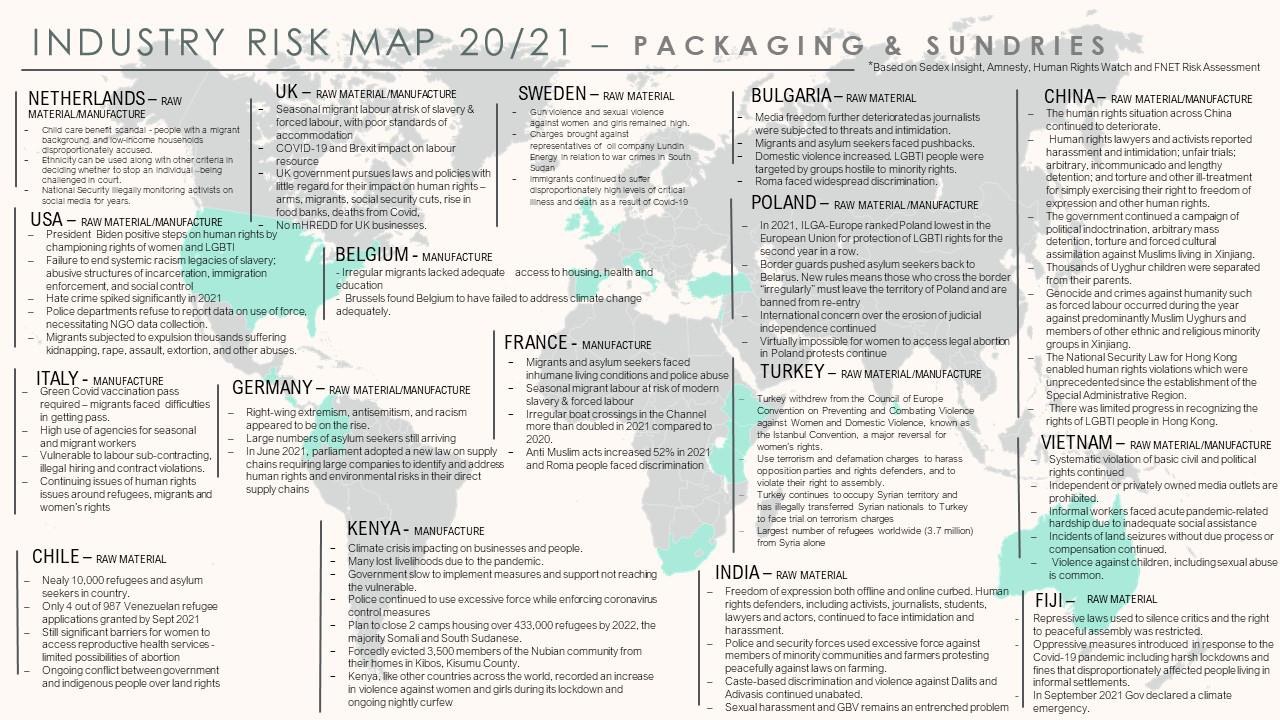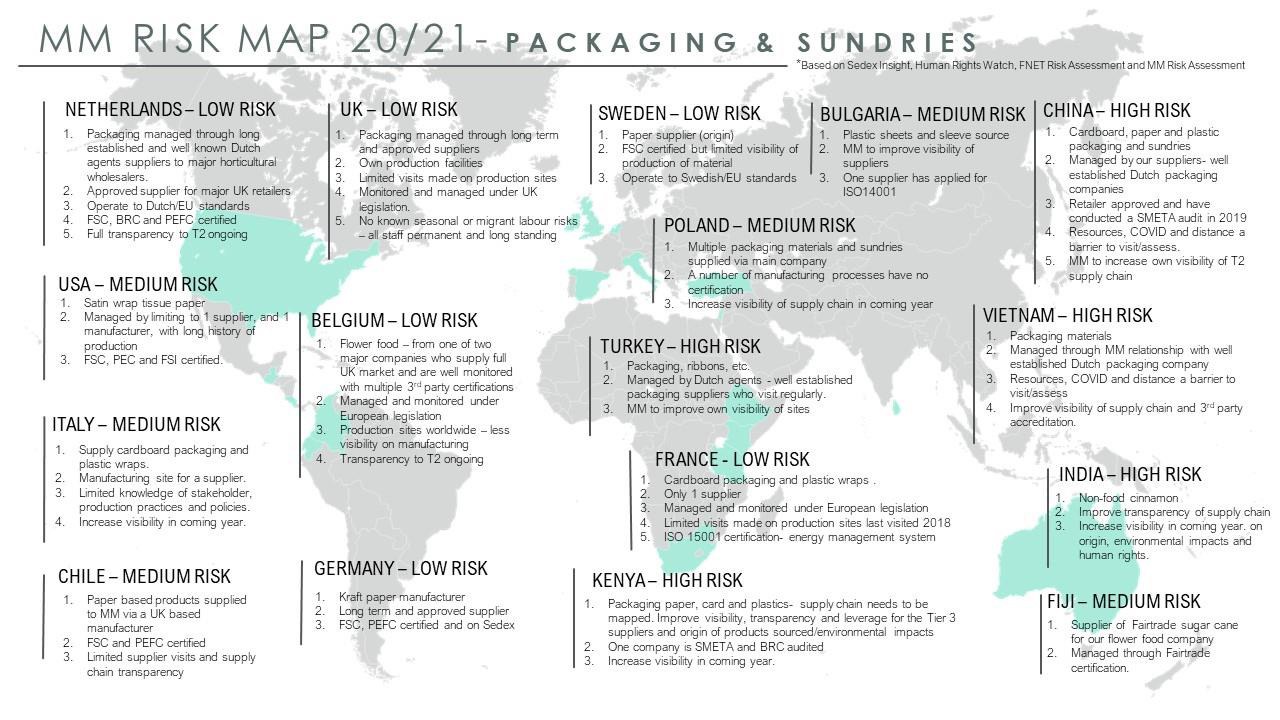 3.4 Priority Supply Chain Risks
The risk assessment process for our supply chain identified five priority areas for us to focus on from a human rights perspective:
Auctions/Agents – T2 visibility
Wild harvesting
UK labour providers - UK growers and own operations
Packaging and sundries – T2/3 visibility
High risk countries – forced labour and gender
Whilst we will continue to work to improve human rights across our supply chain these five priority areas constitute areas of high risk. The priority areas, and how we tackle them, might change as we engage with suppliers and understand more about the specific challenges that the workers face.
Throughout the year we have continued to identify areas of significant risk of modern slavery within our supply chains. To maintain knowledge of current and developing global issues the Sustainability Team and HR Department conduct regular horizon scanning. This includes general research as well as inputs from professional bodies, networks, NGOs and internal intelligence. We also recognise the possibility of further risks developing due to the impact of external factors such as COVID-19, armed conflict, and the climate crisis.
3.5 UK operations
Our UK operations at our Alconbury site increased, and our staffing rose from 359 at the start of our 2020/21 year to 889 at the end. This was made up of 140 office staff, and 749 packhouse staff consisting of 394 directly employed MM Flowers staff on permanent contracts and 355 staff via our primary agency supplier, Staffline.
Our normal operations and permanent staff are supplemented by additional Staffline temporary staff throughout the year, particularly during floral events such as Valentine's and Mother's Day. The demand for additional staff can increase 4-fold during these peaks.
We recognise this as an area of increased risk and engaged Staffline, as they are the largest registered labour provider in the UK and are a strategic partner. Our workforce consists of nationals from over 15 different countries and whilst this creates a vibrant mix of people it can, due to language barriers, present challenges in areas such as communications and training.
COVID-19 and Brexit continued to impact on our business and our supply chains, although travel and freight restrictions began to ease in late 2021. Labour shortages within the UK horticultural sector continue to be a risk factor as we know they could conceal modern slavery and/or forced labour.
4. OUR POLICIES
Issues of modern slavery and trafficking are addressed through our due diligence procedures as well as the implementation of the Ethical Trading Initiative (ETI) Base Code and reporting requirements of Supplier Ethical Data Exchange (Sedex) or Sustainability Initiative South Africa (SIZA). These requirements are aligned with that of our customer's policies and codes of practice as well as our own policies and procedures.
MM Flowers policies and due diligence state that suppliers are required to comply with all applicable national laws and policies as a minimum. If any suppliers do not meet these terms and fail to instigate agreed changes over an agreed time frame, they can be delisted, and supply terminated.
Our policies and practices which cover our supply chain include:
Human Rights Policy.
Sustainability Due Diligence pack (States that suppliers must comply with the ETI Base Code and are required to declare conformance and provide evidence of compliance to this requirement).
Principles of Supply.
Internal policies include:
Whistleblowing Policy
Grievance Policy
MM Flowers provides an external, independent, and confidential whistleblowing hotline, where anyone can raise issues of concern. The contact details are provided to all employees at their induction and the phone number is displayed on site. Any incidences are reported back to the HR Department and relayed to the senior leadership team to be dealt with as appropriate.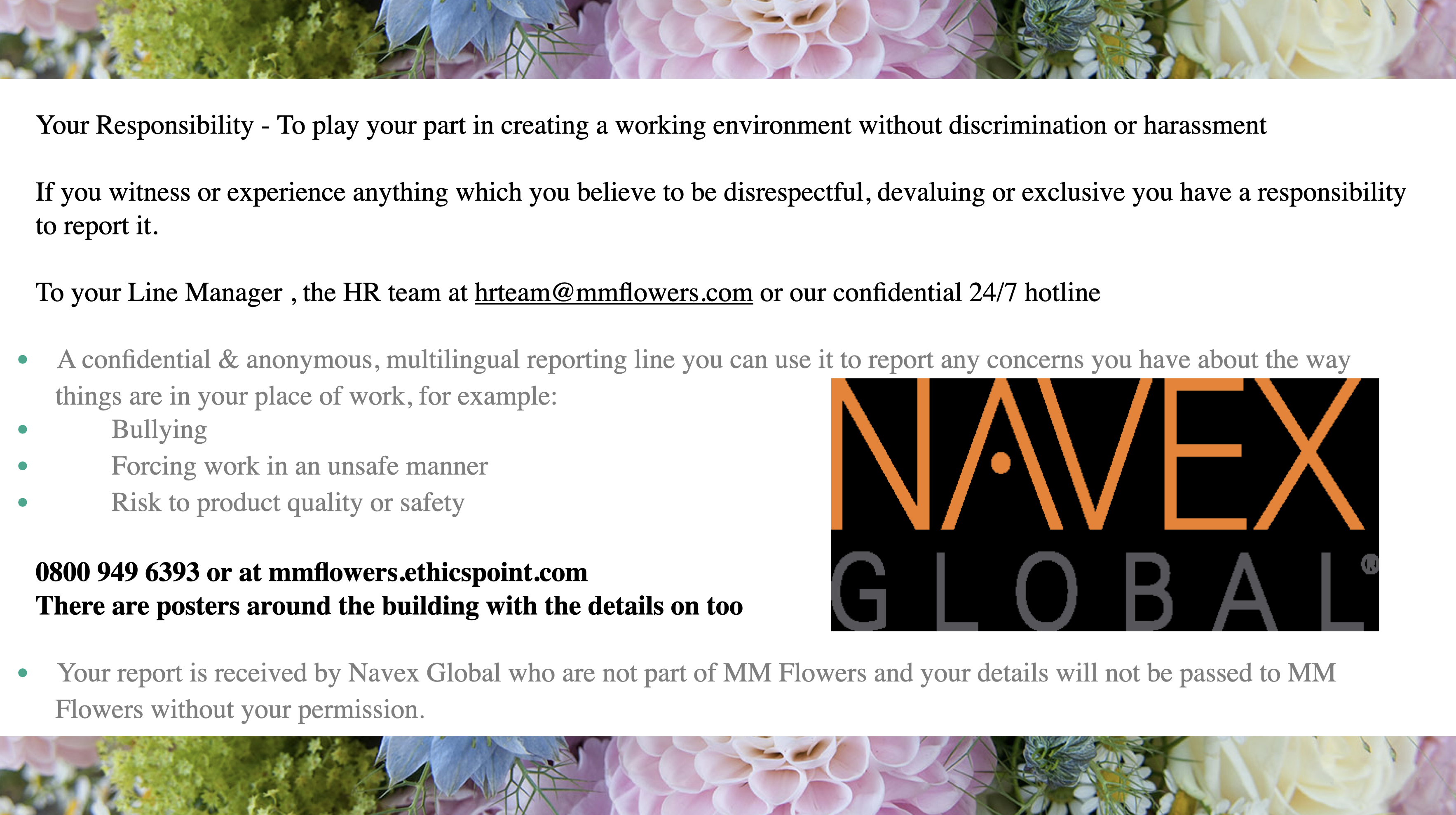 Our grievance policy clearly sets out what steps workers can take to raise issues of concern within their working environment in a safe and supportive way. A Remediation Plan was agreed to be put in place by 2022 to set out our policy for remediation, putting the victim at the heart of all decisions.
We recognise that modern slavery, forced labour and other ethical issues, are closely linked to, and affected by, environmental issues, and vice versa. This interdependency is captured in the three pillars of our sustainability strategy, Planet, People and Profit.
We also recognise the intersectional and gendered aspect of both environmental and ethical issues such as modern slavery and the unequal impact these issues have on different genders, ages, countries, and ethnicities. Therefore, we are reviewing key policies on an annual basis and applying a 'multi-dimensional gender lens' to ensure our policies and practices are adequately addressing all these issues.
5. PREVENTING AND MANAGING RISKS
We apply a range of due diligence processes and procedures to prevent and manage the risks in our supply chains and in our own operations.
5.1 Social Audits
All our major suppliers, together with our own business, are registered on the Supplier Ethical Data Exchange (Sedex) and where required, undergo independent third-party Sedex Members Ethical Trade Audits (SMETA) or agreed equivalents at regular intervals. The frequency and the type of audit is dependent on risk levels and customer requirements.
At all times, we remain alert to the risks of modern slavery within our supply chains. We ask suppliers to follow our due diligence and to help identify, prevent, and mitigate any cases:
Sedex: we ensure that as a minimum all major supplying sites are registered on Sedex and have completed the Self-Assessment Questionnaire (SAQ). We monitor responses to key questions posed and risk assess according to the answers to questions such as provision of accommodation, percentage of permanent workers, and gender split.
Supplier Sustainability Due Diligence Pack: this sets out the ethical and environmental standards and behaviours that we require from our suppliers. The pack raises the issue of modern slavery and provides a link for UK growers to undertake Stronger Together Training. We also request that they provide us with their plans to identify, prevent and remedy modern slavery, trafficking and hidden labour exploitation and their Modern Slavery Statement if they produce one. All non UK growers are asked to comply with national and international guidance on this matter.
Sedex Members Ethical Trade Audits (SMETA): We carry out supplier risk assessments to identify if SMETA audits are required and how frequently. This is cross-referenced against customer requirements. Should non-compliances be raised during audits our team works closely with the supplier to ensure they take appropriate actions and remedy the situation. We share good practice to help resolve issues as quickly and effectively as possible and to help prevent issues reoccurring.
However, we recognise the limitations of social audits, and we have a more proactive due diligence approach; prevent, mitigate and remedy, highlighting issues and working together with suppliers to prevent and resolve potential human rights violations.
5.2 UK Labour
To ensure a well manged and safe recruitment of agency workers, our UK production facility uses the labour provider Staffline, which is one of the largest labour providers in the UK and are Gangmasters and Labour Abuse Authority (GLAA) licensed. A member of our HR team meets with Staffline every week. They are also audited every six months using 'Complyer', which is a comprehensive software tool for auditing legal compliance in agency labour provision.
Permanent workers are engaged through an open and transparent recruitment process with the HR department securing and checking references and bank details. All workers undertake an induction process which includes information on modern slavery, whistleblowing, grievances, and workers' rights. An anonymous worker's voice engagement
process is in place to collect workers views on a range of issues and a workers representative group has been set up at Alconbury to improve dialogue and communications.
We recognise that 'peak events', at Christmas, Valentines, Mother's Day and Easter, are challenging times for us in regard to labour and therefore, also constitute an additional risk for potential forced labour, modern slavery and excessive working hours. To address this, we monitor working hours and shift patterns to ensure workers are within limits wherever possible, brief line leaders and supervisors on the danger signs of modern slavery and ensure our communications are maintained or even increased with Staffline.
5.3 Remedy
MM Flowers recognises the responsibility we share, with our growers, to provide remedy to those victims of modern slavery or forced labour. We know that successful remediation is difficult to implement and requires a victim-led, multi-stakeholder, consultative process.
During 2022 we will develop a remediation plan which covers issues of modern slavery and forced labour and details MMF's procedures. We know that protecting victims of slavery is the most fundamental principle of any remediation plan and we will put in place guidance on the steps that need to be taken. In brief once an allegation of modern slavery or forced labour is made, victims should be:
Taken to a place of safety with appropriate security.
Vulnerabilities considered, for example, disability, gender, age.
Supported by a colleague or trade union representative if possible.
Provided with reassurance and welfare (food, drink, medical assistance).
Informed of what third parties are involved (if any).
Informed of the business's remediation procedure and the support that is available to them.
Asked what remediation they are seeking, e.g., financial, psychological support.
MM Flowers will help to provide access to relevant government or third-party remediation services such as the police (if it is safe to do so) or other recognised remediation authority within the UK or relevant country.
6. TRAINING AND CAPACITY BUILDING
All members of MM Flowers HR, Training and Sustainability teams have attended the Stronger Together UK Modern Slavery basic introduction workshop, and the HR Director has attended the Advanced Stronger Together Training.
Within our UK business, each employee's induction includes a brief look at understanding modern slavery and human trafficking issues. The induction pack, given to all new MM Flowers and Staffline employees, includes information and details on where to find more information and help on modern slavery.
Information on staff responsibility in creating a working environment without discrimination or harassment is also included in the induction and posters are produced in a variety of languages. During the year we held several modern slavery awareness raising events in Alconbury, these included:
Stronger Together videos played on the canteen screens.
Posters on how to spot and report concerns including modern slavery in both the canteen and in the washrooms and in main languages spoken on site.
Social media posts with information on how to spot modern slavery and contact numbers.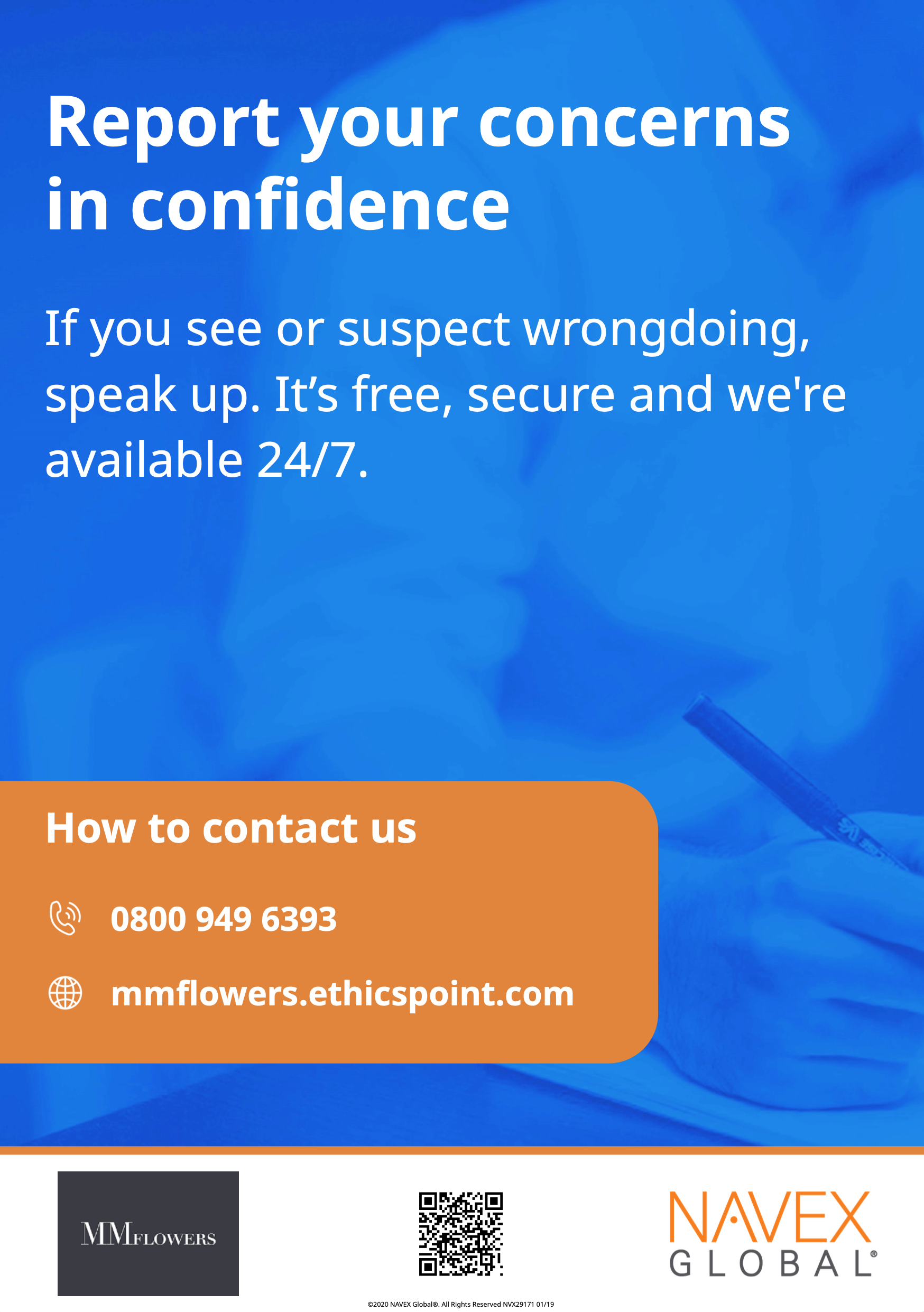 We will continue to roll out Stronger Together training to relevant staff. We will build on our own training and awareness programmes. We will develop new programmes and increase awareness through shared examples of good practice with our wider supply chain. We will work towards increasing the awareness of modern slavery across all our supply chains.
The MMF and AM Fresh UK inter-company Modern Slavery Steering Group was put on hold in 2020 due to staff redundancies, lack of capacity and both businesses focussing on tackling Covid-19. Due to an increase in the number of sites and scale of operations it was agreed that we would proceed as independent businesses.
7. TRACKING OUR PROGRESS
Transparency is central to tackling modern slavery and human rights and we need to be open about our successes and our failures. In 2019 we identified a number of areas to track, in particular around social audits and training. Some of these have been met, however, our plans for progress were hampered during 2020 due to Covid-19.
One area we identified as high risk was the use of labour providers in our supply chains. We had hoped to have completed this by 2021 but due to Covid-19 constraints we have revised the target date to 2022 for completion.
7.1 Key Performance Indicators (KPIs)
We have identified twelve key performance indicators (KPIs), three taken from our 'Future Plans' section of last year. We have added an additional six KPIs and identified three more KPIs that all require baselines by 2023.
KEY PERFORMANCE INDICATORS

KPI

Target

Achieved

1. Percentage of growers who are registered on Sedex and completed an SAQ.

100%

96%

2. Percentage of high-risk, regular growers who have undertaken an ethical audit; SMETA or agreed equivalent.

100%

Baselines and targets set for all grower categories by 2023

86%

3. Annual review, update where required, and reissuing of due diligence pack to all growers

100% by 2023

-

4. Annual review, and updates where required, to key documents: Human Rights Policy, Modern Slavery Statement, Sustainability Strategy.

3 by 2022

-

5. Number of general modern slavery awareness raising programmes for all staff.

2 to be delivered annually

3

6. Percentage of all UK staff who have undertaken basic modern slavery training

30% by 2023

-

7. Identify the number of UK staff who require additional Stronger Together modern slavery training.

Baseline set for 2022 and set targets for 2023

-

8. Percentage of staff participating in nGaje or company worker surveys to gather workers' views - in future years we will include a modern slavery question.

40% in 2023

-

9. Number of collaborations and partnership opportunities identified and developed to tackle systemic modern slavery risks.

2 in 2022

-

10.Percentage of suppliers who have received and responded to information on modern slavery.

60% for 2023

-

11. Identify number of modern slavery/forced labour risks identified and resolved through audits.

Baseline set by 2023

-

12. Identify percentage of regular growers who use labour providers.

Baseline set for UK growers in 2023

-
We will allocate sufficient resources to support delivery, monitoring and evaluation and we will report against these on an annual basis to track progress and measure performance.
8. FUTURE PLANS
Last year Covid-19 impacted on delivery of some of our future plans to identify, prevent and help eradicate modern slavery from our supply chain. This year we have incorporated some of the commitments into our KPIs and refreshed our remaining commitments to give us a clear pathway going forward. The board's agreement to set up a new position of Group ESG Director will help strengthen MMF's work on tackling human and environmental rights.
8.1 MM Flowers
We continue to focus on building our capacity to capture and analyse data, especially gender disaggregated data, as well as engaging with our suppliers. Our commitments over the coming years are to:

Invest in improved data management systems, increased staffing and increased staff training to improve the collection and analysis of HREDD data.
Complete the mapping of our supply chains to full transparency, focusing on those we don't have direct relationships with and our packaging and sundries supply chains.
Continue to update risks on an ongoing basis as well as an in-depth annual review with particular focus on high risk countries and high risk products in supply.
Engage with our suppliers for feedback on our modern slavery statement. Gain an understanding of actions they may already be taking and ask how we can support them to detect and act on instances of modern slavery.
Continue to develop training on sustainability, equalities and diversity, gender, human rights and labour standards for all key staff within the business.
Deliver the Multi-Language training to all UK staff and set up regular worker representation meetings to improve communications and engagement.
Share good practice with our sister company MMBV in the Netherlands.
8.2 Collaboration
We are an active member of the Food Network for Ethical Trade (FNET) and the Association of Labour Providers (ALP), where we share information, good practice and support each other in identifying and tackling the challenges we face.
We have continued our engagement in the Coventry University Sustainable Cut Flowers Research Project. The project brought together a multi-disciplinary network of industry players to investigate how the promotion of sustainable cut flowers can contribute to improving the environmental impact and ethical working conditions in floriculture supply chains. We will continue to work with the group to progress areas such as wild harvesting and living wages.
In 2020 MM Flowers, in partnership with Fairtrade Foundation, Coventry University, NGOs and retailers, was successful in gaining funding from the FCDO Vulnerable Supply Chain Facility. This was to build resilience in the flower supply chains of Kenya in the face of Covid-19 (see Section 9 Appendix). We will build on this work and ensure awareness of issues such as modern slavery and forced labour are cascaded into the farms in Kenya and throughout our major supply chains. We also collaborated in discussions around a potential UK Horticultural Covenant, a key recommendation from this project
We will continue to build on these relationships and engage with a range of partners including:
Stronger Together in other countries such as Spain and South Africa.
Floriculture Sustainability Initiative (FSI), a Global collaboration.
Pre-competitive collaboration on country, regional and sector-wide challenges such as labour standards.
Collaboration with NGOs, academia, retailers and other suppliers.
We will continue to track and report on our progress, as well as review and update our KPIs and commitments as required.
This statement is made pursuant to section 54(1) of the Modern Slavery Act 2015 and has been approved by the Group Leadership Team on 18 August 2022.

Phil Whelan
Managing Director
9. APPENDIX
9.1 Case Study – Building Resilience in Kenyan Supply Chains